The 2020 Toronto Interior Design Show
Last week, members of the Euro Tile & Stone team headed to Toronto to explore the Interior Design Show (IDS) as part of DesignTO, Toronto's design week festival. The show brings together over 53,000 of the world's leading companies, change-makers, designers and their creations to transform the future of architecture and design.
With plenty of outstanding booths and talented individuals showcasing today and tomorrow's most compelling trends, we couldn't help but come out of the weekend feeling inspired.
Our team is excited to share some of our most memorable booths and stories with you!
When you enter IDS, you find yourself immersed in a vibrant world. Dreamland was created by potter, designer and author Johnathon Adler in collaboration with quartz surface manufacturer Caesarstone.
The booth is an ethereal free-floating fantasy full of heavenly clouds, ostrich feathers, and neon rainbows which highlight the versatility of quartz. The neo-classical columns were inspired by Caesarstone's headquarters in the old Roman port of Caesarea.
Johnathon said he challenged his design skills by taking a material that is traditionally associated with straight, harsh lines and using it in a softer environment.
Take a look at some of our Caesarstone products here to start brainstorming how you can use quartz in your space!
Dreamland set the bar high for the rest of the show.
The Concept House: RESET Home.
Designed by VFA Architecture & Design, Hummingbird Hill Homes, and VTLA Studio, this year's Concept House blended theories of spatial perception with a focus on how our physical surroundings influence human wellness.
RESET Home. transcends contemporary design to reset the way we perceive, interpret, and experience our living habitats. The team worked together to determine how materials, textures, sounds, scents, and light affect the five senses, mind, and body.
The main concept was the idea of the exterior and interior bleeding into each other. This is increasingly important in design as people are finding ways to further connect with nature to combat stress and reduce anxiety.
Natural materials such as wood siding were used to evoke an organic and calming feeling. The island bleeds into the exterior courtyard to extend the elements of the kitchen outdoors and a living wall is introduced to improve air quality.
We've noticed that design blended with nature is the future. Click here to read our blog on Interior Designer Lynn Ferron to learn how nature affects her health and designs.
When we spotted the vibrant, hot pink booth adorned with hundreds of phones hanging from the ceiling, we had to check it out.
Loop Phone Booths realized the culture of how people work has shifted to a focus on sharing, transparency, and collaboration. Today, you see open-concept offices that promote collaboration but reduce the amount of private space available to take a confidential phone call and other private needs. Loop Phone Booths was born to solve this need.
When Giancarlo Colasanti, Operations Manager at Euro Tile & Stone, stepped inside the Loop Phone Booth, we were shocked that we couldn't hear him at all from the outside and vice versa. What started as a noisy trade show hall quickly became a quiet oasis for Giancarlo.
These would be a fantastic addition to any commercial space!
The Nix booth was simple yet wildly fascinating. It featured shelves with everyday objects with the perfect colour match behind it. We all know how hard it can be to find that perfect match so we were intrigued to learn their secret.
Only a couple of inches, the Nix Mini Color Sensor matches and identifies any colour with an effortless scan.
Not only is the Nix perfect for design purposes such as matching paint colours to other focal points in the space, but it is also used for thousands of other reasons such as agriculture!
For example, egg farmers use the Nix to monitor egg yolks to ensure the colours are consistent. This helps to ensure that there are no issues such as contamination and results in healthier eggs overall.
FRÖVI designs furniture for social spaces. They believe that offices are much more than places to work – they should be social environments that stimulate creativity and success. Their mission is to excite and inspire to support agile working practices today and into the future.
Their booth featured modular sofas and synergetic tables but the showstopper was their semi-private partition.
It featured a contemporary interior surrounded by greenery that was used to increase privacy. The half-open design creates an ambiance that suggests it's time to work but that collaboration is welcomed. It was the perfect combination of privacy and open concept!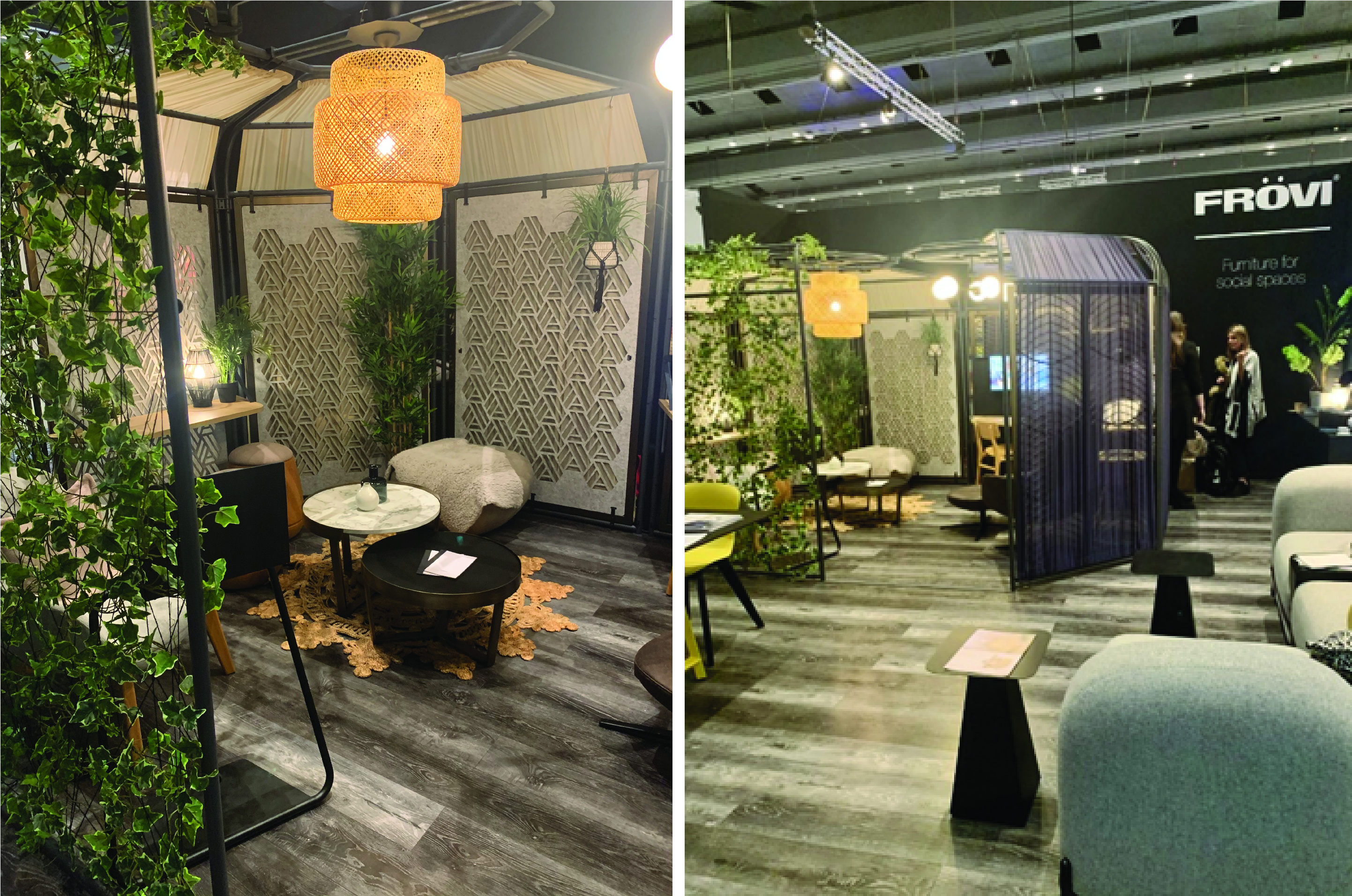 Until Next Year…
This is just a small snapshot of the incredible booths we discovered this year. We experienced thousands of avant-garde concepts from North America and beyond that left us blown away. With so many talented individuals sharing their ideas and creations, we left the show ready to make an impact in the design world.
IDS is so much more than an interior design trade event. It's about the incredible people, their talents, their innovations and the impact they leave on their communities.  The Euro team is already looking forward to seeing you at IDS 2021 and can't wait to see what the future holds.