Happy National Tile Day
National Tile Day was founded in 2017 by Coverings, the largest international tile & stone show in North America. The day recognizes a timeless element of architecture in design.
According to Alena Capra, Owner of Alena Capra Design and industry ambassador for Coverings, the day is "rooted in a desire to celebrate all of the benefits that tile and stone have to offer as materials". We couldn't agree more, Alena!
In honour of National Tile Day, we asked some Ottawa based Interior Designers and Contractors to let us know why they love tile and what their favourite tiles are!
KODA INTERIORS
Website: www.kodainteriors.com
Instagram: @koda.interiors 
Why do you love tile?
I love tile because it can take a space to a whole other level. You can add pattern, texture, depth and colour with tile. It adds interest to the space! You can have tons of fun with tile by mixing colours, creating different pattern installations and mixing tiles from different collections.
What is your favourite tile from Euro Tile & Stone?
How the heck do I choose just one? My favourite tile changes every week – but this may be because I am constantly visiting the Euro Tile & Stone showroom and seeing something new everytime!
For a look that is still 'safe' and totally timeless, but has more interest than a simple white subway tile, I am loving the CROMIA 26 WALL collection. It has soft, subtle colours that I am just loving right now. The added depth and texture in the tile is interesting even in white! But the mixture of white, beige and pink tones in the herringbone install is just STUNNING!

MAG Interior Design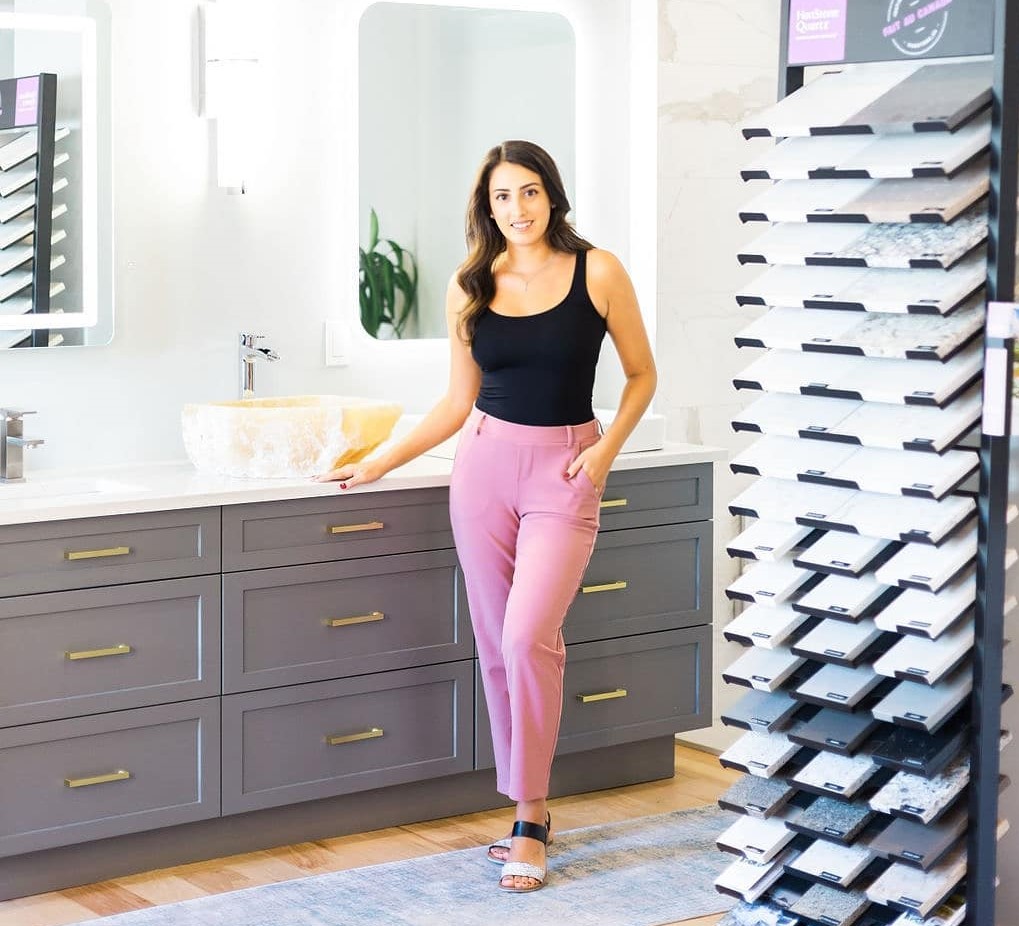 Website: www.maginterior.design
Instagram: @maginterior.design
Why do you love tile?
Tile is my favourite material to select! I love it because of how versatile it is and the various shapes, colours, sizes and patterns it comes in. Tile alone can define a space in terms of style and overall aesthetics – the possibilities are endless!
Also, playing with grout colours for greater impact is another thing I love about tile. Euro Tile & Stone NEVER disappoints with all their wonderful products and various price points for all kinds of projects – definitely my #1 tile supplier 🙂
What is your favourite tile from Euro Tile & Stone?
So hard to pick a favourite, too many gorgeous options! I love all the subway tiles and the fun ways they can be installed.
FLORENTIA is my current subway favourite because it's a cool twist on a classic tile – I will be using it on a project soon! And then anything large format or hexagon I also love!

LATTANZIO TILE & MARBLE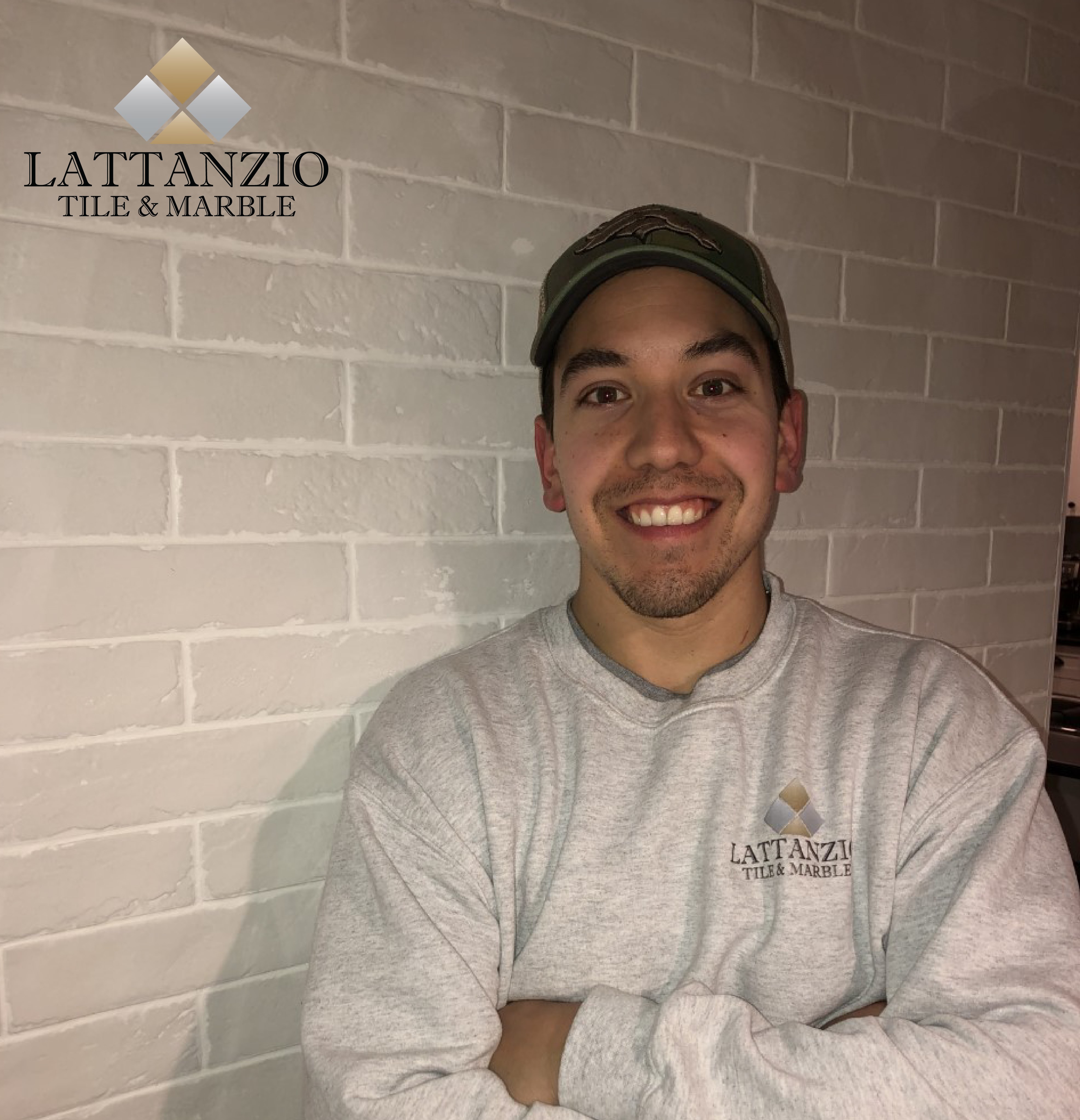 Instagram: @lattanziotile
Why do you love tile?
Tile & Stone has always been a part of my life, especially since my grandfather worked most of his life as a stone mason, and my father a tile setter for 30 years.
When I was younger and getting more familiar with this specific trade, I would work side by side with my father as he would teach me the techniques, work ethic, and dedication to becoming a successful tile setter. Most importantly he taught me to take pride in my work. I've always liked working with my hands and being creative – allowing my passion to bring out the artists in me.
There's nothing more rewarding than a client expressing their vision and me drawing it and making it come to life! Seeing a clients reaction after transforming their space is why I do what I do. 
What is your favourite tile from Euro Tile & Stone?
My favourite tile from Euro Tile & Stone would be the NO_W Collection. This collection comes in 3 different sizes and 4 different colours.
I love it so much that I installed it in my own home. It's a natural and matte-finished tile and with the different sizes and shapes, it can become so versatile. I would recommend using this collection for any backsplash, bathroom or accent wall. The stone-like texture brings me back to my European roots, as it reminds me of the cobblestone streets in Italy.
LYNN FERRON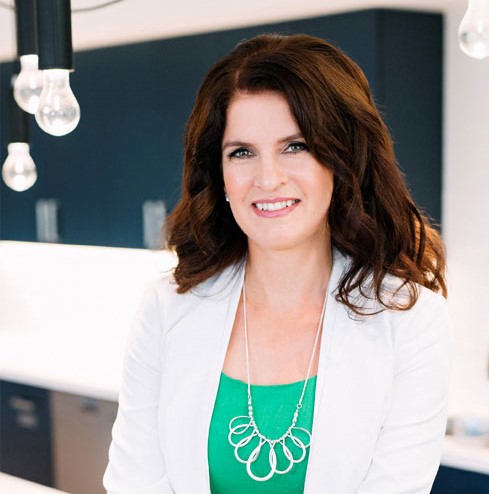 Website: www.hok.com/studios/ottawa/
Instagram: hok_ott
Why do you love tile?
I love tile because of its durability, longevity and the limitless design possibilities. Design in tiles has progressed significantly in the last 10 years.
Porcelain tiles come in large sizes, even slab sizes and look nearly identical to natural stone.  Most people can't tell the difference in an installation.  The man-made version is engineered to be more durable than natural stone, as it is not as porous and more resistant and durable.
What is your favourite tile from Euro Tile & Stone?
My favourite product is the AZALAI line of products. It comes in slabs for countertops, in large scale tiles for floors and also thin slab sizing for backsplashes.  It emanates Nero Marquina marble which never dates.
Its composition makes it stronger than the natural, porous stone and it is nearly impossible to decipher the difference.  Spaces we design should be timeless to ensure longevity for the owner's investment. The AZALAI line delivers. We are currently specifying it on a project for flooring and a backsplash application. We can't wait to see it in our design!
Read our blog on Lynn's journey by clicking here.
TANYA COLLINS

Website: tanyacollinsdesign.com
Instagram: @tanyacollinsdesign
Why do you love tile?
I love tile as it can add texture, shape, pattern, and colour all at the same time to a space.  The mood and style of a space can be dramatically altered with this one finish.
What is your favourite tile from Euro Tile & Stone?
I love most of your tiles but I would say your entire FS or Mystique collections are my favourite right now as they transport you to another time and place.  They are perfect for the client who wants to add a classic yet global influence to their decor.
Read our blog with Tanya by clicking here.
Why do you love tile?
Thank you to the incredible designers and contractors who shared with us why they love tile! Now we're curious … why do you love tile?
In honour of National tile day, we're giving away a $150.00 gift card to OCCO kitchen which features some of our favourite tiles such as FS Star and FS Saja! To enter simply visit our Facebook, Instagram, Twitter or LinkedIn and comment on the giveaway post telling us why you love tile!
The Euro Tile & Stone team wishes you good luck on the giveaway and an amazing National Tile Day!