BLANC DU BLANC
This graphic is inspired by an exotic granite with a strong visual impact from Brazil; it has a light cream background with contrasting dark parts reminiscent of a zebra pattern. Used as a coating, even for kitchen worktops, it is able to create highly scenographic surfaces.
Click here to discover the coordinating Nobile 6mm slab and tile collection.
Available in bookmatch!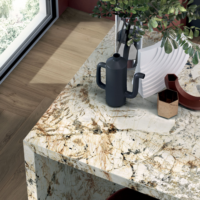 Product Information
Product Description
Technical Specifications